Get involved!
Your Membership Matters
Your membership supports the The Davie Area Land Trustmission of conservation, education and preservation.
We are a membership organization with no employees, and no Board members receive any compensation. We appreciate your help, and we rely completely on volunteer work and voluntary contributions to sustain our Trust.
The Davie Area Land Trust, Inc. is a not-for-profit corporation organized under the laws of the state of Florida and is recognized by the U.S. government as a tax-exempt organization under Section 501(c)(3) of the Internal Revenue Code.
Annual Membership Levels:
Land Saver $35.00
Land Protector $100.00
Land Steward $250.00
Land Guardian $500.00
Land Conservator $1000.00
Trustee $2500.00
Presidents Circle $5000 and up
To join by mail or check please use the Membership Form link below
Join or donate online with PayPal- click below
Membership form
---
---
---
---
Davie Land Trust
membership
The Davie Area Land Trust relies 100% on community support and involvement, including financial donations. Your membership creates awareness and maintains our ability to manage conservation easements in Davie and the surrounding areas.
Volunteer work and donations-in-kind sustain the Trust.
Pseudobombax
Ellipticum
Or "shaving brush tree"- this stunning flower blooms annually and can be found on the north side of the canal which runs along the horse trail that joins Robbins Park and Flamingo Gardens. If you park at Flamingo Gardens and head east along the bicycle and horse and walking trail you will see a whole line of these magnificent trees. There are also some in front of the fire station.
Robbins
Park
One of the crown jewels of Davie's open space and park systems and located on Hiatus Road just north of Orange Drive, Robbins Park remains a primary destination for the Trail Riders and the former home now seems to host a large wedding and reception every weekend. Pasture and trails, live oaks and native vegetation, an amazing collection of rare Golden Royal Poincianas back in the northwest corner, and Robbins' natural serenity instantly prove the value of open space, habitat, and the rural lifestyle.
Support Davie Open Space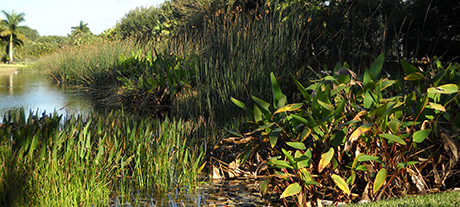 Wetland mitigation in Davie provides open space, horticulture, and habitat, benefitting both wildlife and the community with tranquil vistas.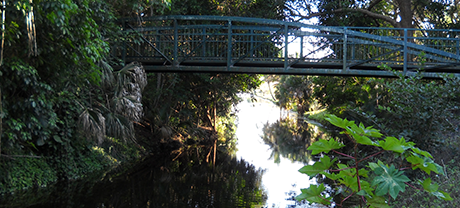 This bridge joins Davie's Robbins Park to the trail system, allowing horseback riders, pedestrians, and bicyclists serene and safe paths between parks and neighborhoods.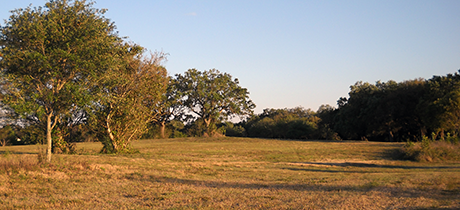 The value of vista and habitat to the community multiplies in sites like the ridge on Nob Hill, forever protected, home to burrowing owls, and connected with Davie's trail system to Tree Tops Park and the trails around and through Pine Island Ridge.